Atomic Force Microscopy (AFM) and Raman Spectroscopy
Atomic Force Microscopy and Raman Spectroscopy service
Atomic Force Microscopy is dedicated to the characterization of sample surfaces by making topographic three-dimensional analyses of surfaces as well as local mapping of physical quantities.
Raman spectroscopy is used to characterize the molecular composition and structure of a material.
The atomic force microscopy and Raman spectroscopy service is available to LCC researchers and students but also open to all university and private laboratories.
Atomic Force Microscope SMART SPM1000-AIST-NT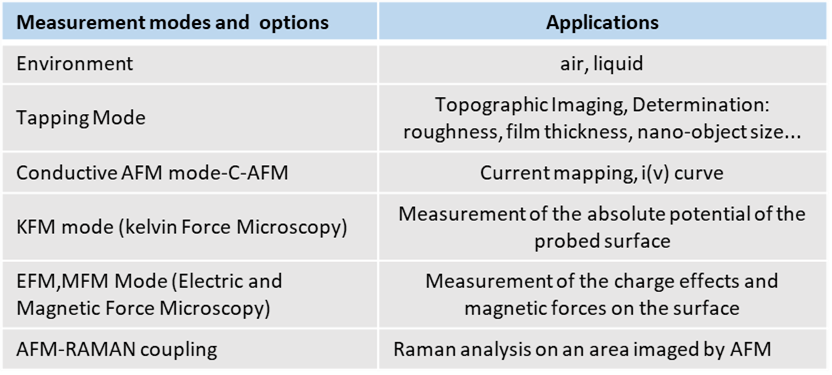 Spectrometer Raman XPLORA-HORIBA-JOBIN YVON
It is equipped with a high-quality microscope (10X, 50X and 100X objectives) coupled to a high sensitivity spectrograph. The spectral range extends from 100 to 4000 cm-1.
It is also equipped with an air-cooled CCD detector and three laser sources 532, 638 and 785nm with a beam quality optimized for micrometric resolution.
Temperature measurements are possible between 78K and 600K thanks to a cryostat (Linkam scientific).
The AFM microscope can be coupled to this equipment for co-localized Raman analysis.