Multifunctional molecular magnets
Multifunctional molecular magnets
Development of multifunctional molecular magnets where magnetic properties are combined to optical or dielectric properties are at the heart of this research theme. A particular interest is devoted to compound exhibiting magneto-optical or magneto-electric properties (multiferroicity).
An illustration of this is polarized emission observed for a chiral Dy(III) complex when this SMM is in a slow relaxation regime of its magnetization (Illustration).[1]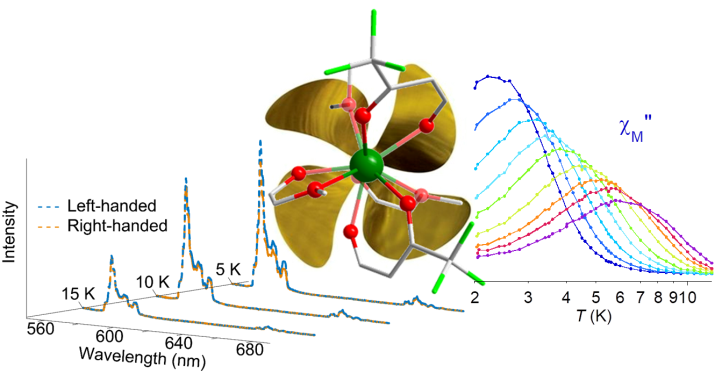 Illustration: Circular polarized luminescence and molecular magnet behaviour in a chiral Dy based-complexe.
[1] Concomitant Emergence of Circularly Polarized Luminescence and Single-Molecule Magnet Behavior in Chiral-at-Metal Dy Complex. 
B. El Rez, J. Liu, V. Béreau, C. Duhayon, Y. Horino, T. Suzuki, L. Coolen, J.-P. Sutter.
Inorg. Chem. Front., 2020, 7, 4527-4534.